The rising incidence of diseases such as diabetes and cancer has created a need for extensive research to develop new treatment options. According to the International Diabetes Federation (IDF), approximately 425 million people had diabetes in 2017, and this number is estimated to reach 629 million by 2045. Cancer, which has become the leading cause of death globally, accounted for 9.6 million deaths in 2018.
According to GLOBOCAN, the number of cancer cases will rise to approximately 30 million by 2040 from 18 million in 2018. The growth in the prevalence of these diseases has resulted in a need to conduct extensive research for their diagnosis and treatment; cell expansion forms an important part of this research.
Research in cell biology necessitates the use of animals and humans, as animal and human cells are used in gene therapy studies that involve the recombination of genes and stem cell research therapies. These cells are also used for in vivo toxicity and pharmacokinetic testing of drugs, which may harm animals and humans. In addition, stem cell research studies use human embryos for clinical applications that often lead to the destruction of human embryos.
The consumables segment is further segmented into reagents, media, sera, and disposables, while instruments are segmented into cell expansion supporting equipment, bioreactors, and automated cell expansion systems.
Download PDF Brochure @ https://www.marketsandmarkets.com/pdfdownloadNew.asp?id=194978883
[354 Pages Report] The global cell expansion market size is estimated to be USD 14.9 billion in 2020 and projected to reach USD 30.1 billion by 2025, at a CAGR of 15.1%. Growth in this market is driven mainly by the increasing incidence of chronic diseases, government investments for cell-based research, the growing focus on personalized medicine, increasing focus on R&D for cell-based therapies, and growing GMP certifications for cell therapy production facilities.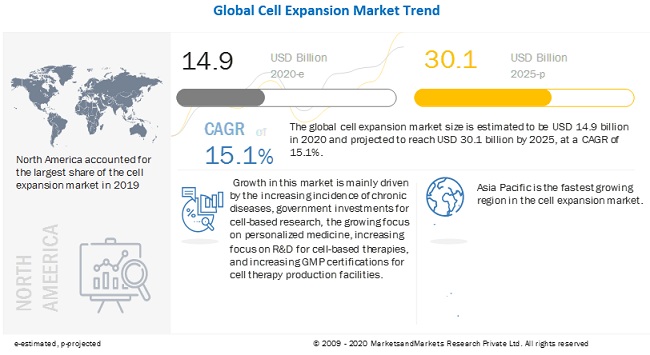 The human cells segment includes stem cells and differentiated cells. The stem cells segment is further classified into adult stem cells, ESCs, and iPSCs. In 2019, the human cells segment accounted for the larger share of the cell expansion market, majorly due to the increasing investments by public and private organizations for research on human cells, growing application areas of human stem cells, and the growing incidence of diseases such as cancer.
North America accounted for the largest share of the cell expansion market in 2019. The large share of this segment can primarily be attributed to the rising incidence of cancer, increasing government funding, rising research activates on stem cell therapies, growing awareness regarding advanced treatment methods, growing geriatric population, and the strong presence of industry players in the region.
The global cell expansion market is dominated by a few globally established players such as Thermo Fisher Scientific (US), Danaher (US), Becton, Dickinson and Company (US), Lonza (Switzerland), Corning (US). Merck (Germany), Miltenyi Biotec (Germany), STEMCELL Technologies Inc. (Canada), Sartorius Stedim Biotech (France), and Terumo (Japan). Start-up companies include REPROCELL (Japan), iXCells Biotechnologies (US), Neuromics (US), G&G technologies (US), and Celltainer Biotech (Netherlands).